The incubator picture can be seen on the Pygmy Date Palm posting. I followed the same "Baggy" method to germinate these. These did need to have the fruit removed, cleaned and soaked in warm water for about 2 weeks changing it twice daily. The fruit removal is a little more involved than the Med Fan seeds. I allowed the Queen Palm seeds to dry up a little (not completely) and not be mushy as mushy was difficult to handle during the knife process. I could start on one end and peel the coagulated fruit/skin off in thirds. These Queen Palm seeds are a little like bowling balls…most have 3 small holes (some 4) that allow the root to come out from. I used the point of the knife to lightly clean out each hole as I thought this trapped fruit would be that growth inhibitor I've read about. I did a final rinse with 5% bleach and water. If you were only doing a few, the manual method using a sharp knife would work fine. Once again, I went crazy and hand cleaned about 600 seeds. If there is a next time, I would use an old cement mixer with ¾ gravel with the fruit still mushy for easy removal and save my fingers from cuts and soreness. By January 22, 2010, I had only 1 seed start a root.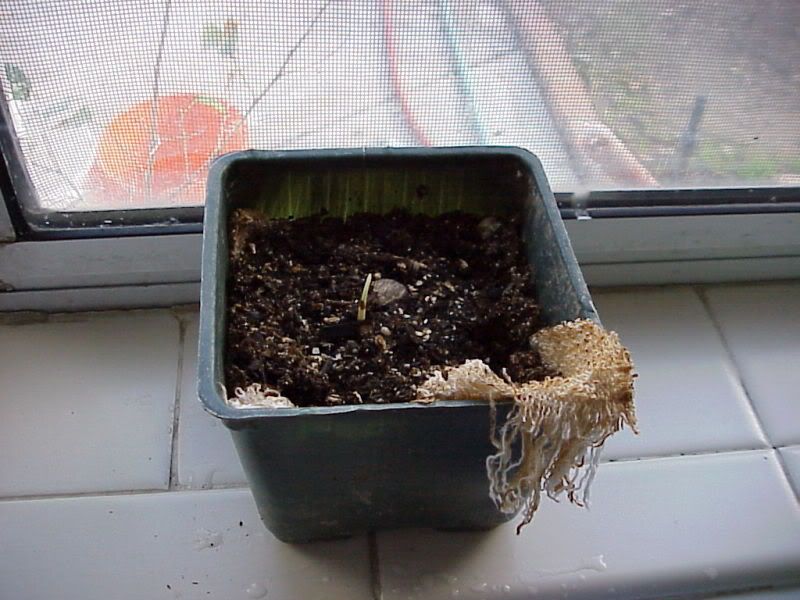 I realized that I really should have this seed in a 1 gallon container as I was worried about disturbing the root system, so by 3-20-2010, this Queen looks like this.
With only one seed sprouting right away and no other seed showing any activity, I've rewashed them, taken a .060 drill bit in a tap handle tool and cleaned each of the 3 holes out of any residual contaminant. Within days, no roots appeared but only a slight oozing of white material around 1 of the holes. Every time I see this, they're dead. I seemed to have messed this batch up somehow. The seeds had just fallen and the slight waiting to clean the fruit is no longer than having the seeds shipped from stored inventory. Is 90 degrees too hot in the incubator? They never dried out and they weren't sitting in too much water. I NEED YOUR HELP! These are supposed to be one of the easiest seeds to germinate.