This Valentine's Day Roses For Autism Grows Roses, Careers and Love
Tucked away on Route 1 in
Guilford
is one of Connecticut's hidden gems! Roses for Autism is many things; it's a farm, a florist, a career training program, a sensory garden, and most importantly, a true community resource for individuals with autism. Within 12,500 square feet of greenhouse space,
Roses for Autism
is also the northeast's last commercial rose grower, cultivating many varieties of roses including the Forever Red, Bridal Pink, Orlando Pink, Goldstrike Yellow, as well as their signature Lavande Purple Rose.
GUILFORD, Conn.
February 03, 2019
Roses for Autism is truly so much more than roses! For the last ten years, they have helped individuals living with autism and other disabilities navigate the post high school journey to employment. Despite national attention to this important issue, Individuals with disabilities continue to have a much lower rate of employment compared with the general population, just 18% compared to 66% of individuals without a disability according to a 2018 report from the
Bureau of Labor Statistics
.
Michelle Ouimette, Managing Director of Roses for Autism
, offered this explanation for the high unemployment rate: "young adults with disabilities want the chance to work and contribute to society. They too desire a sense of purpose, however after high school ends, many individuals get stuck in unemployment because they don't have the right supports or opportunities to help them get their first job!"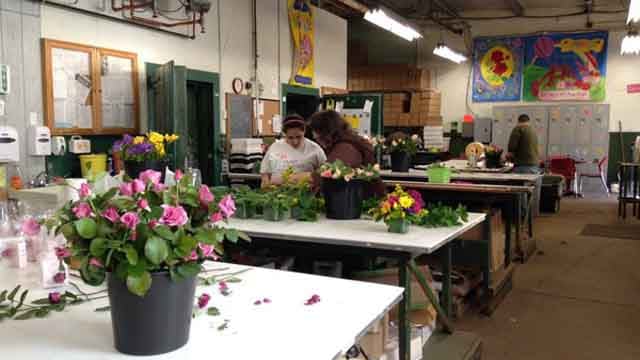 Roses for Autism prides itself on helping people grow their careers and cultivate their tomorrows! Individuals who attend Roses for Autism participate in their vibrant internship program that teaches them the hard skills of the business from growing operations to floral design, retail merchandising, ecommerce, and customer service. They also teach employability skills - the soft skills - like how to find a job, working as a team, resolving conflict, etc. Roses for Autism leverages its relationships with other businesses and organizations to help people become employed.
In addition to providing career development opportunities, Roses for Autism teaches the importance of a national marketplace.
Roses for Autism delivers locally and ships nationwide. 100% of the proceeds are reinvested into its business and programs.
Roses for Autism is a 501(c)(3) non-profit
social enterprise whose mission is to grow careers and cultivate tomorrows for individuals living with autism and other disabilities. Since 2009, Roses for Autism in partnership with its parent company
Ability Beyond
, has helped over 120 individuals gain work experience, and learn the necessary employability skills to help them become successfully employed. Proceeds from flower sales and its exclusive
Ardent Rose perfume
fund its employment programs, and community sensory garden garden scholarships and career training for transition age students with Autism and other disabilities. Visit
http://www.rosesforautism.com
.
Contact Author
Michelle Ouimette
Roses For Autism
+1 2039270873